Welcome!
Welcome to Exwick Heights' blog, sharing tried and tested recipes. Here, we will be sharing ideas that are ideal for lunchboxes as well as dinner time, and promoting useful, healthy tips about food . We hope these recipes will support our busy parents and encourage the family to eat tasty foods that are not too time consuming to make and also leaves out the extra sugars and additives we don't need. Our 'Good Enough to Eat' blog is simply that: good enough for us all to eat!
We'd love hear how you've got on with trying these foods and what your taste buds think too. If you have a tried and tested, delicious creation and would like to share it with our community, then please email it in to admin@exwickheights.devon.sch.uk.
This week's Tip
If you have a fussy eater, enjoy experimenting with flavours and textures together. It's important to discuss, as a family, what each family member thinks about the food too. Avoid asking 'do you like it' and instead focus on describing what the food feels and tastes like in their mouth, comparing it to familiar foods. Involving children in the making process is a huge step forward too – even if they choose not to taste the food until the sixth, seventh or even eighth time they make it with you.
Recipe: Easy Peasy Pizza!
This is a recipe that is so simple and uses only two ingredients! Flour and yoghurt make up this pizza base and it can be made with both Greek yoghurt or Natural yoghurt. Greek yoghurt was a little better tasting and you may find a little more flour is needed if you use the natural yoghurt. An extra tablespoon should be sufficient. Roll the base as thick or as thin as you like and place on a pre-heated baking tray. Note the baking times will differ if thicker.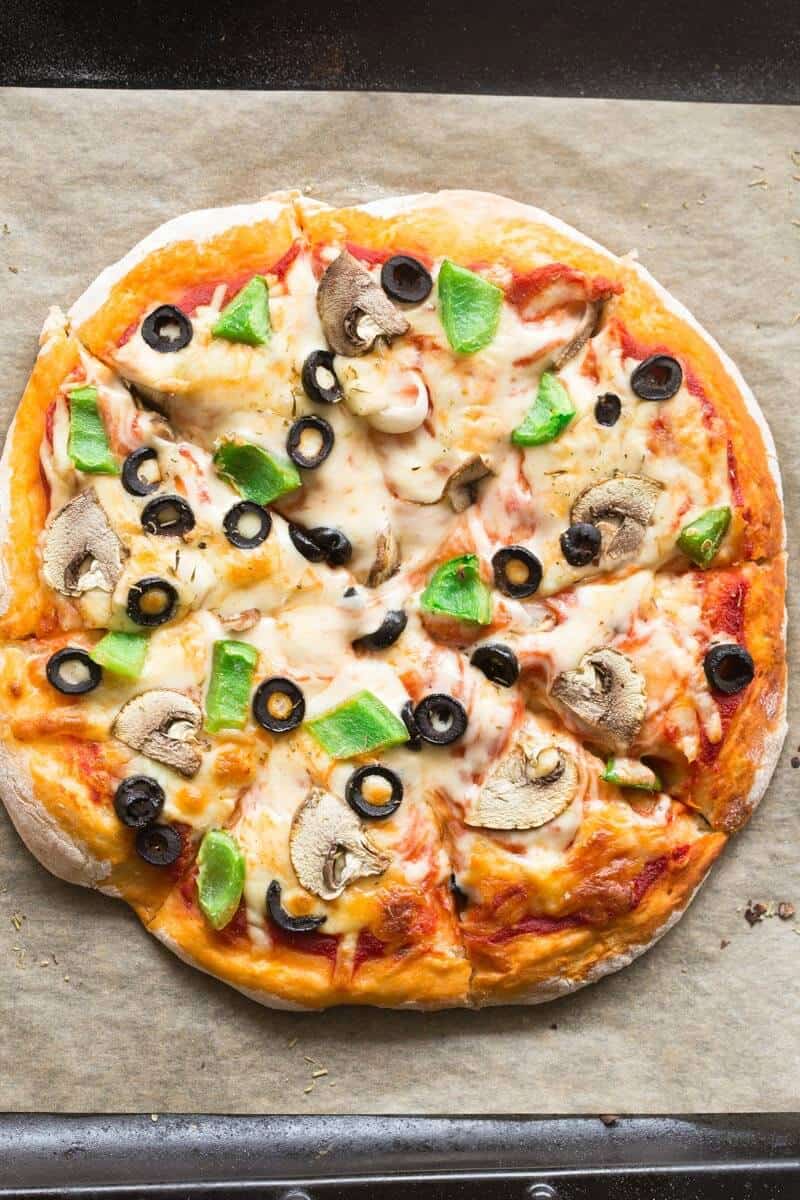 Recipe
220g self raising flour (gluten free/wholemeal flour are suitable or plain flour and 1 tsp on baking powder)
235ml of Greek yoghurt (2 large tablespoons)
Mix both in a large bowl and with a spatula/wooden spoon and once the yoghurt has been combined, begin to fold using your hand and heel of palm for a few minutes, stretching it and folding it.
Flatten out onto a baking tray usig your hands or a rolling pin (sprinkle with a dusting of flour to avoid it sticking) and pop it into a pre-heated oven (180 degrees) for 5 mins. Take out and add any toppings you desire and pop it back in the oven for another 15 minutes – longer if you have made it thicker.
Recipe tried and tested and found on www.thebigmansworld.com
Tips for Toppings
Make your own tomato sauce from a tin of chopped tomatoes, half an onion, herbs and spices (mixed Italian herbs and garlic work best) and a tablespoon of tomato puree. You could add the following on top of the sauce too or why not ask the children what they'd like?
Vegetarian Pizza – Mushrooms, olives, peppers, frozen sweetcorn pieces, red onion, and spinach.
Hawaiian Pizza – ham and pineapple.
Mexican Style Pizza – Jalapenos, minced beef/other meat), onions and peppers.
Pepperoni Pizza – Pepperoni slices.
Meat Lovers Pizza – Any selection of meats
It goes without saying, if you or a family member have any allergies, please avoid recipes that have particular allergens or swap an ingredient for a safer one that suits your family's needs.